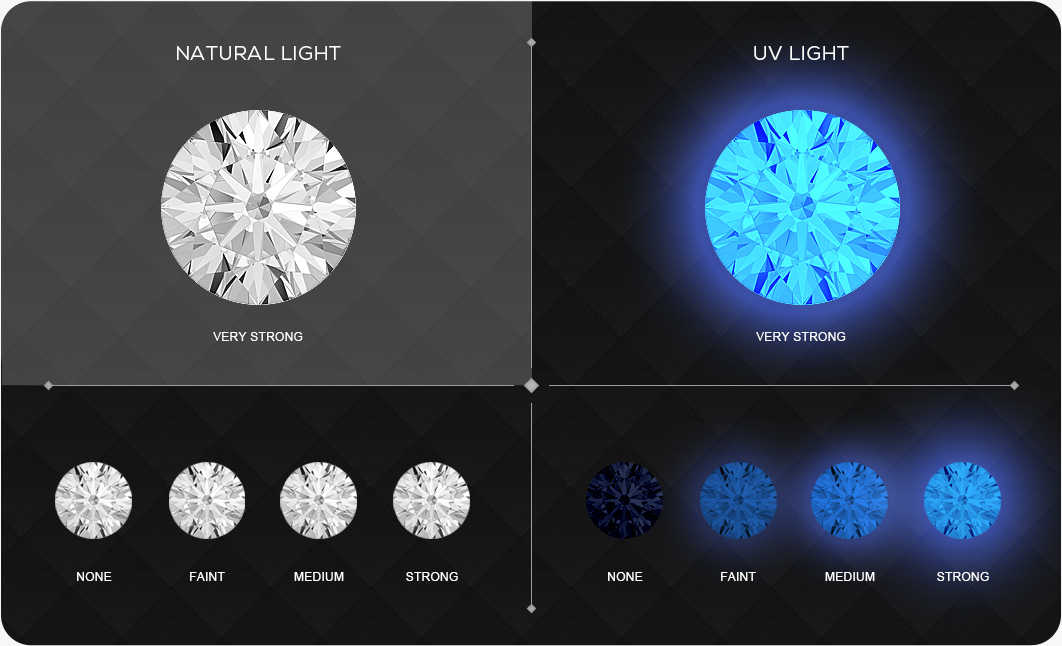 How beautiful it is , a diamond that can have two colors . A day color white, and a night color( blue ) under UV light that most bars , night clubs , restaurants and chic place have everywhere . Let everyone see your glow at night .
In some diamonds, a soft glow is present when they are subjected to ultraviolet light, such as a black light. This is what we refer to as Diamond Fluorescence, a topic that has been widely disputed in the diamond industry. However, results have been inconclusive and experts cannot agree on what the influence that fluorescence truly has on a diamond. Ultimately, you should not allow the existence or absence of diamond fluorescence to greatly affect your decision to purchase a diamond. It mainly comes down to personal preference and aesthetics.
Diamond Fluorescence is caused by the natural mineral properties of the diamond and has been studied numerous times by the Gemological Institute of America, or the GIA, to gain a better understanding of the debated issue. A study in 1997 done by the GIA suggested that the presence of fluorescence makes very little difference in the appearance of a diamond. Despite these findings, the existence of fluorescence has greatly influenced the pricing of diamonds.
Most Jewelry designers love strong fluorescence and say this gives extra features to the diamond ( two colors ) and clients love it . The professional trade however has found a loop here to push diamonds price down and argue that fluorescence destroys the glow of the white diamond mainly if they are top colors , my question is why ?
So if I too think is unique and fantastic for a diamond to have "strong fluorescence" and decide to charge a primum of 3 % to all diamonds from the 4 of July 2021 .
We love it so much we have created a brand for it " WhiteBlue diamonds".
WHAT IMPACT DOES FLUORESCENCE HAVE ON THE APPEARANCE OF A DIAMOND?
GIA studies show that, for the overwhelming majority of diamonds, the strength of fluorescence has no widely noticeable effect on appearance. In many instances, observers prefer the appearance of diamonds that have medium to strong fluorescence. In rare cases, some diamonds with extremely strong fluorescence may appear hazy or oily; fewer than 0.2% of the fluorescent diamonds submitted to GIA exhibit this effect.
DOES FLUORESCENCE COMPROMISE THE STRUCTURAL INTEGRITY OF THE DIAMOND?
No. A diamond that fluoresces has the same integrity as one with no reaction to UV. Submicroscopic substitutions and/or shifts in the diamond structure can cause fluorescence as well as prevent it. Nothing in either instance inherently weakens or is bad for the diamond.
Strong fluorescence diamond for sale available :
4.40Cts
Color D
clarity VVS2
3 EX
GIA certificate
Price 150.000 USD
Premium * 3% ( to be added )
**delivery Immediate .
Perfect example of the Diamond with strong fluorescence certificate